Today's 10 mile run (first 6 at 8:30's then last four at 7:50's) was my longest run since surgery, and brought my predicted times down again to a season best (predicted 5k 21:24). Took a full minute off the half marathon prediction, too. Fun to see the progression.
Last week I hit a best single mile of 6:46 during a 4 mile run.
Training is starting to really pay off, but still have a long way to go to get back into shape. Slow, steady progress!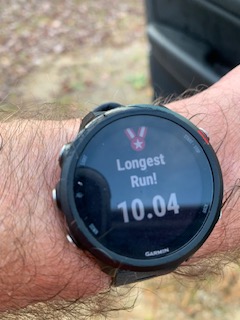 https://www.darincbrown.com/wp-content/uploads/2023/11/396281469_7228338777199103_6875521464142646995_n.jpg
320
240
admin
https://www.darincbrown.com/wp-content/uploads/2023/09/MP-logo-4-300x300.jpg
admin
2023-11-01 16:12:06
2023-11-01 16:12:06
Coming Back